World's Friendliest Pub
LOCALLY SOURCED × CRAFTED WITH LOVE
Like Trivia?
We play trivia every Tuesday starting at 6:30pm! Bring a group of friends or join a team when you arrive!
Located just outside of Sackville on Beaver Bank road. We are the Big Red building with our driveway located on Windgate Dr.
Look forward to seeing you!
We got the tag line "Worlds friendliest pub" by doing things just a little bit different. Going the extra mile to make things right. With a fresh new style and vibe, The Beaver Bank Station is sure to please. Offering affordable, fine pub foods with live entertainment. You can easily enjoy our intimate atmosphere in the dining room, lounge area or one of our three rooms upstairs.
Located in the old Hallisey Inn, constructed in 1872, the Beaver Bank Station reflects a clean modern space while also paying tribute to its storied past. This multi-level restaurant offers the chance to have a wonderful meal with family and friends (new and old) and unwind after a hard days work in a piece of Nova Scotia history.
Contact
(902) 864-5634 chris@beaverbankstation.com
Location
991 Windgate Dr, Beaver Bank, Nova Scotia B4G 0A7
Hours
SUN-THURS 1100am - 9pm
FRI & SAT 11am - 12am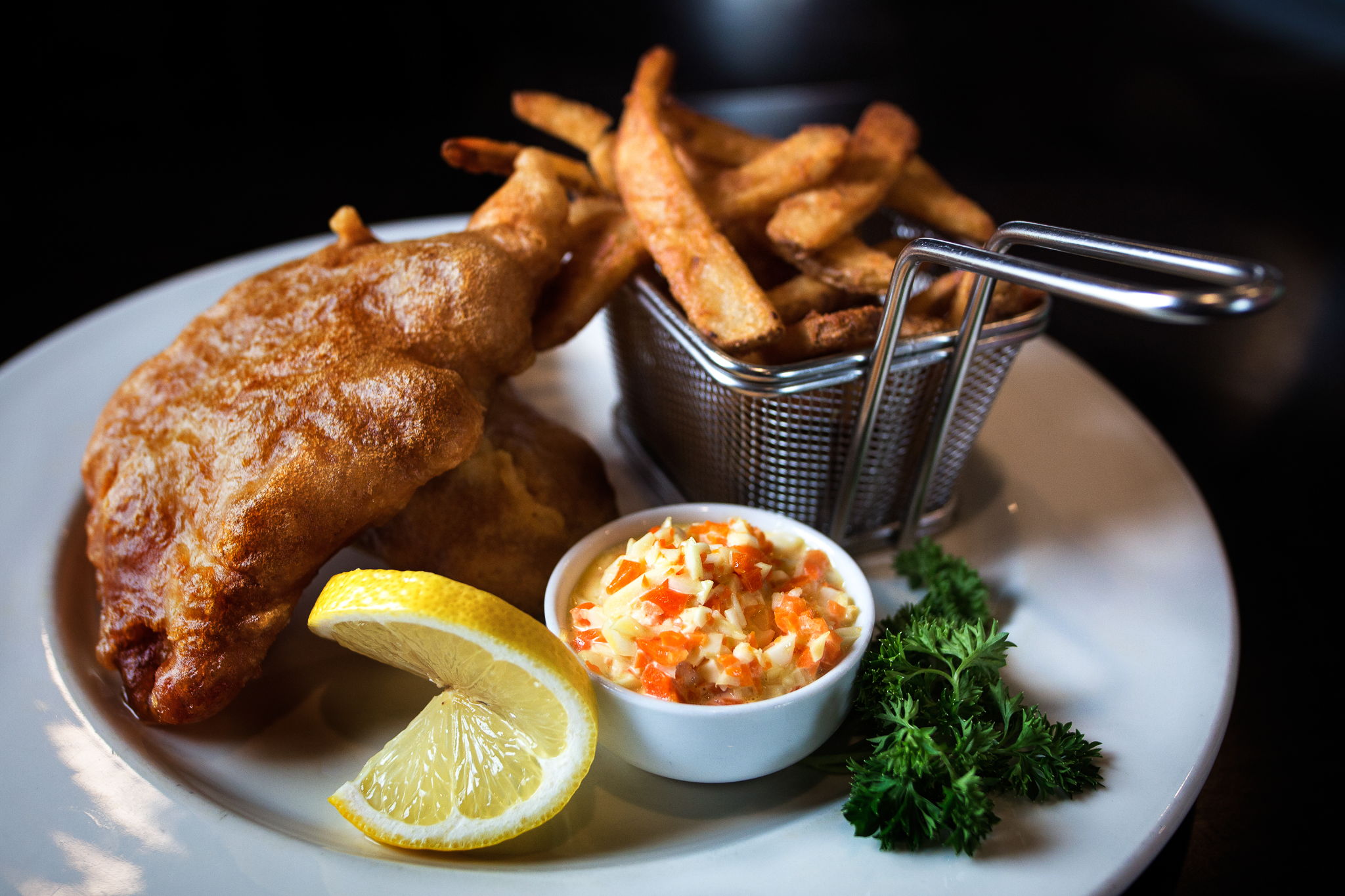 Order online for pickup or delivery
We are happy to offer you the ability to order online for pickup or delivery.
You can also do a pickup order by calling us at (902) 864-5634
$

13
CALAMARI
Fried baby squid-o's
$

11
MUSSELS
Fresh, local, and steamed in a garlic & white wine sauce
$

17.75
NACHOS
Cheese, tomatoes, green onions, jalapenos, with red and green peppers with your choice of chicken or beef. Add a side of guacamole for 3
$

13.75
IRISH NACHOS
Seasoned kettle cut chips topped with cheese, bacon and green onions. Served with salsa and sour cream
$

10
HUMMUS TRAY (GF)
Pita triangles, celery, carrots & bell peppers
$

13
THAI BITES
Breaded chicken tossed in a sweet chili sauce served on a bed of lettuce with sesame seeds and green onions
$

8.50
BLACK & TAN ONION RINGS
Traditional onion rings with just a drizzle of stout all over these bad boys–don't worry it won't get you drunk
$

12.75
SPINACH DIP
Yes—you get bread, chips and dip!
$

13.75
CHICKEN WINGS
Canadian chicken wings by the pound with your choice of sauce
Salads
All salads are served in a house made taco bowl. Appetizer size (7) and full-size options available.
$

10.75
GREEN SALAD
Fresh spring mix, cucumbers, bell peppers and sweet onions with your choice of dressing
$

10.75
GREEK SALAD
Greek out with fresh leaf lettuce, chunks of cucumber, diced tomato, slivers of red onions, and garnished with black olives and crumbled feta cheese
$

10.75
CEASAR SALAD
A classic combination of fresh lettuce, bacon, roasted to perfection garlic croutons and coated with shaved Parmesan
$

11
SPINACH SALAD
Take this egg-cellent salad for a spin with fresh baby spinach, mushroom full bacon strips, topped with a boiled egg
Seafood
Cup: 6 or Bowl: 12
Corn & Bacon
Cup: 5 or Bowl: 10
Sandwiches
All sandwiches include your choice of rice, Caesar salad, fries, mashed or baked potato.
$

11.25
BLT SANDWICH
We don't need to explain this classic—you just choose the bread
$

15.50
ROAST BEEF CLASSIC
Shaved roast beef with sautéed onions and peppers, with Swiss cheese on a garlic ciabatta bun and served with aù jus
$

14.75
CLUB SANDWICH
You choose if your classic club is served as a sandwich or a wrap
$

15.25
LOUISIANA CHICKEN
Cajun spiced chicken breast with layers of cheddar cheese, lettuce and tomato on a ciabatta bun with our signature bacon jam
$

15
LOBSTER SALAD SANDWICH
A Nova Scotian favourite—fresh lobster, lettuce, tomato and mayo on a toasted kaiser bun
$

15
HOT HAMBURGER
Just like Grandma would make with seasoned beef, onions and slathered in gravy
Burgers
All burgers are made from Atlantic grass-fed beef include your choice of the best fries in the world rice, Caesar salad, mashed or baked potato. ADD-ONS Bacon - $1 Cheese - $1 Caramelized Onions - $2 Fried Egg - $1.50 Gluten-free bun $2
$

14.5
THE OLD FAITHFUL
A time-honored arrangement of a seasoned patty, lettuce, tomato, pickle, onion, and mayo
$

15.5
THE STATION BURGER
We like to keep things simple and just add cheese and bacon
$

15.5
PEANUT BUTTER BURGER
Feeling nutty? This patty is slathered in smooth peanut butter and topped with bacon strips
$

13
VEGGIE BURGER
A fresh handmade blend of sweet potato and black bean served on a toasted Kaiser Bun
$

13
PORTABELLO BURGER
Portobello patty with a trickle of balsamic reduction, red onion slices, lettuce, tomato, and cheese
STEAK & RIBS
Includes a good helping of steamed veggie and your choice of rice, Caesar salad, fries, mashed or baked potato.
$

17
6 OZ N.Y. SIRLOIN
Grilled to your specification
$

22
8 OZ N.Y. STRIPLOIN
Center cut AAA beef grilled to your specifications
$

18
1/2 RACK OF RIBS
Slow roasted to perfection and then grilled with our signature whiskey BBQ sauce
ADD-ONS:
Shrimp 5, Scallops 5, Haddock 5, Caramelized Onions 2, Grilled mushrooms 2, Peppercorn Sauce 2, Chicken Wings 5
$

15.5
TWO PIECE FISH & CHIPS
Sackville's favorite fish and chips—were not lying—served with coleslaw and tartar sauce. One piece available upon request - 12
$

15.5
CHICKEN DINNER (GF)
Grilled chicken breast with honey garlic or BBQ sauce served alongside your choice of potato and a helping of veggies
$

16.75
COCONUT CHICKEN CURRY BOWL (GF)
Sautéed vegetables in a homemade curry sauce on a bed of rice with a dollop of yogurt and served with garlic bread. You tell us how spicy you're feeling; mild medium or hot. Swap out the chicken for beef - 1
$

16.75
RED THAI CURRY BOWL (GF, just ask for no breading)
Fresh haddock OR chicken tossed in Thai seasonings and then fried. Served with broccoli and red peppers on a bed of savory jasmine rice
$

15.5
CHICKEN PARMESAN
Breaded chicken breast placed on a bed of linguini pasta and homemade marinara sauce dusted with flaked parmesan
$

16.75
CHICKEN CARBONARA (GF PASTA AVAILABLE)
A delicious mixture of grilled chicken, bacon pieces, garlic cream sauce that is served on a bed of linguine and topped with flaked parmesan
$

17.5
PANFRIED HADDOCK
Fresh haddock drizzled with lemon bouillon sauce served with rice and fresh vegetables
$

15
FISHCAKES
Handcrafted in-house with fresh haddock, mashed potatoes, and sautéed onions then oven baked until golden brown. Served with rice, coleslaw, and a lemon zest chow
Kids Menu
All Kids Meals come with an ice cream dessert with your choice of sauce (Chocolate, raspberry, Carmel) A drink and a side. $7.99
Brunch Menu
Available Sunday
$

12
EGGS BENNY
Two poached eggs on top of an English muffin covered in hollandaise sauce with hashbrowns
$

12
STATION CLASSIC
Two eggs any style, bacon, hashbrowns, and toast
$

12
VEGGIE BENEDICT
Pouched eggs on English muffin with spinach, mushrooms, throw on some hollandaise sauce and some hashbrowns and now we got a party.
$

12
FLATTIES
A stack of pancakes (4), Add .50 for choc chips or a buck for bananas
$

12
THE FRENCHNESS
French toast with bacon and a side of hashbrowns.
$

15
STEAK AND EGGS
6OZ Sirloin, two eggs (any style) hashbrowns and toast
$

15
FISHCAKES BENNY
Two fish cakes, poached eggs and hollandaise sauce with hashbrowns.
$

15
RISE AND BURGER
Our hand-pressed Angus beef with bacon, cheese, a fried egg, and side of hashbrowns of course
Live Music
Live Music every friday and saturday starting at 8:00PM
october 4th scott macdonald

OCTOBER 5TH KAYLA MASON

OCTOBER 11th JOHN DUGGAN

OCTOBER 12TH JESTER J BROWN

OCTOBER 18TH BROKEN BRIDGES

OCTOBER 19TH MIKE & ROB

OCTOBER 25TH ROB FRANCIS

OCTOBER 26TH BLIND MAN TERRY
CONTACT 902.864.5634 FOR BOOKING INQUIRIES